Anyone who has had an early Discovery or Range Rover has probably suffered from the 'saggy headlining' problem. What happens is over the years the foam backing of the material used to cover the fibre board used for the headlining deteriorates and loses it's structure. What was a thin layer of foam backed material ends up as a layer of material and a layer of orange dust that used to be the backing.
I have seen various methods of repair including stapling the headlining up, injecting glue behind the lining or ripping the lining off and painting the board.
These are the pictures of the headlining in my 300tdi 3 door (1998)
Headlining sagging in front of windscreen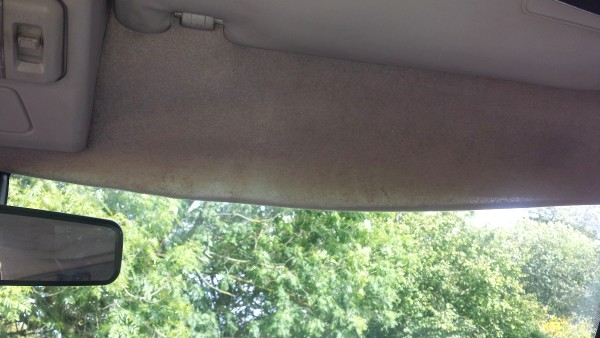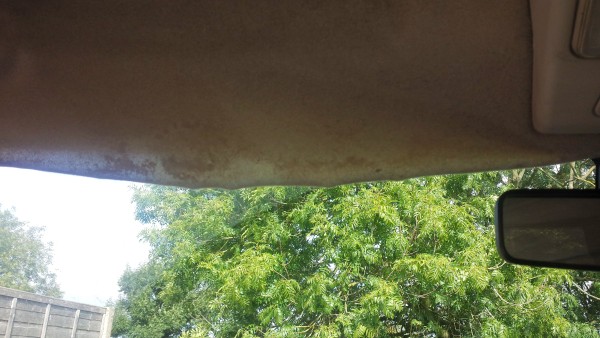 Sagging from the roof, I am lucky my car does not have any sunroofs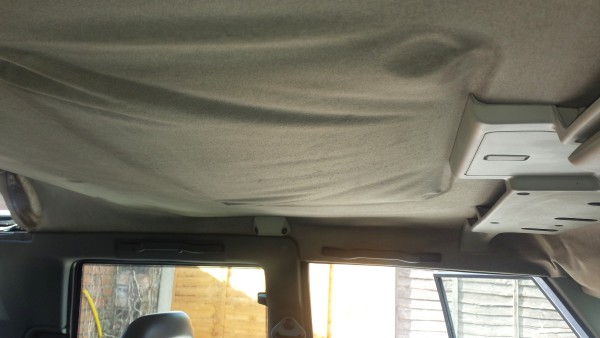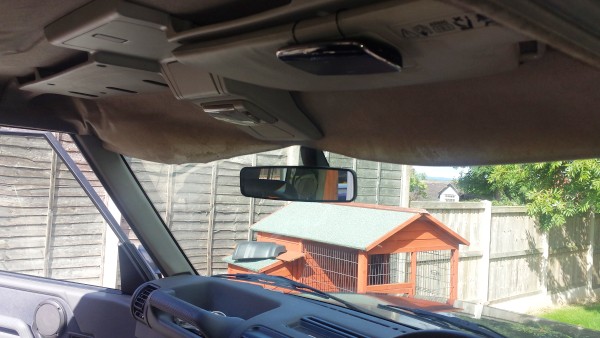 To remove the headlining all the attachments have to come off, sunvisors, interior lights, grab handles, rear window trim etc. Total dismantling time about 1 hour, then with a little tugging the whole board and lining can be pulled out.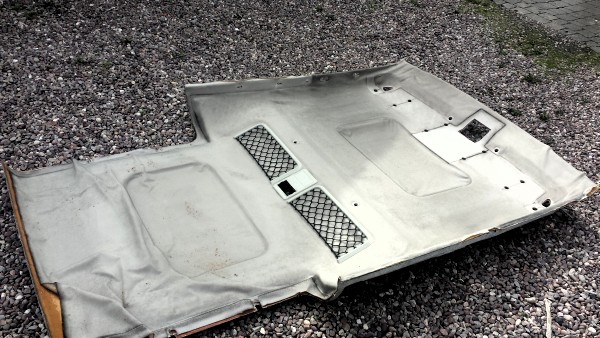 You can see the covering coming off the board leaving a layer of brown foam crumbs behind. The lines on the cloth are dirt.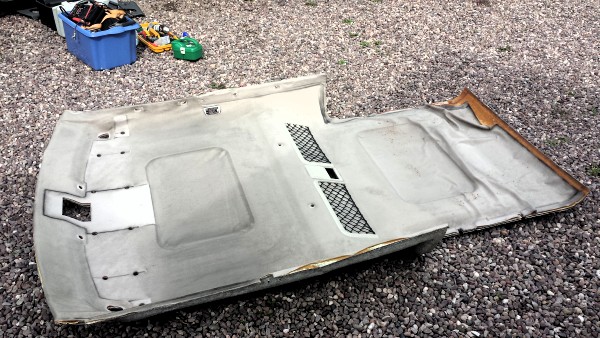 The reverse of the board showing the rear reinforcing plates holding the rear roof light and nets.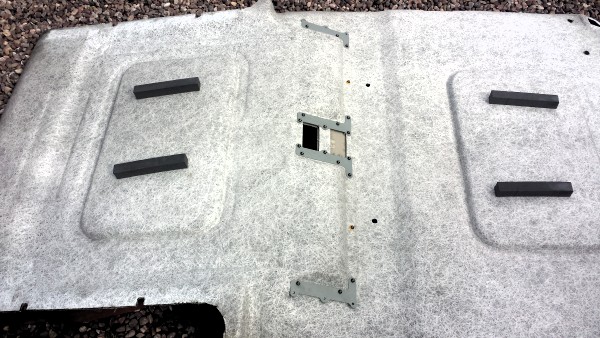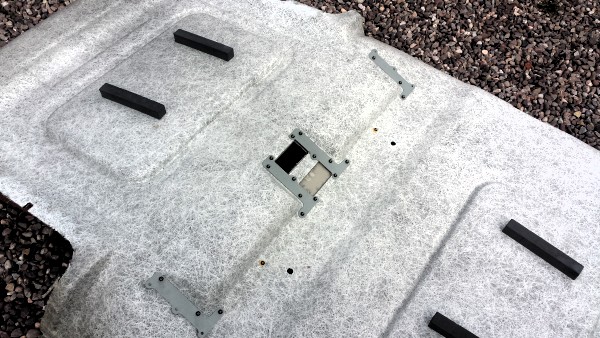 The old cloth can be pulled off leaving the powdery residue behing, this is easily removed with a stiff brush. When it was clear i painted the board with an oil based undercoat to seal the fibre board. Here is the board on an stand with the new headlining (foam backed in grey bought from a land Rover supplier on ebay) resting on the board in the sun so it 'gets used to' the shape of the board.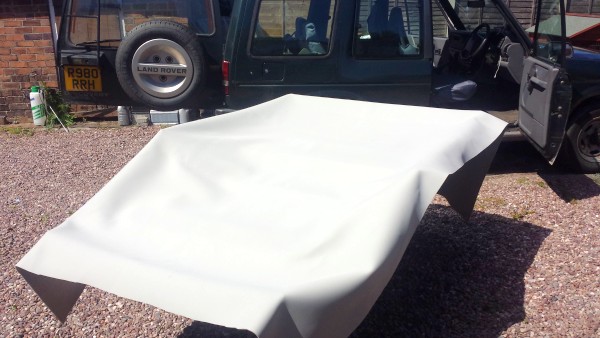 I then used a high temperature spray on adhesive (following the safety precautions) and was able to attach the new lining to the board. I found it helpful to use a wall paper roller and a spoon to make sure the lining was in all the contours. The adhesive has to be a 'high temperature' one because the roof gets very hot in the sun and you dont want the adhesive to give way!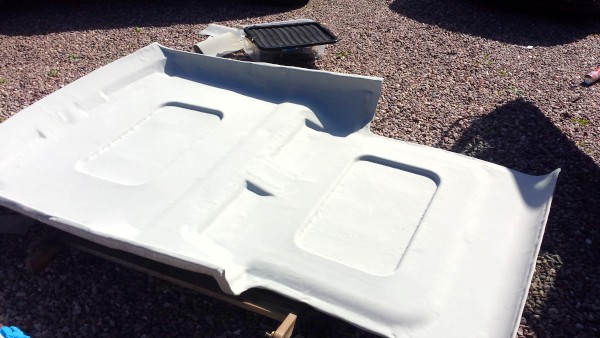 Now it is a simple process of cutting out all the holes and refitting, for some reason this took a lot longer than the removal. Finally re-attaching all the bits and pieces after giving the a bit of a clean.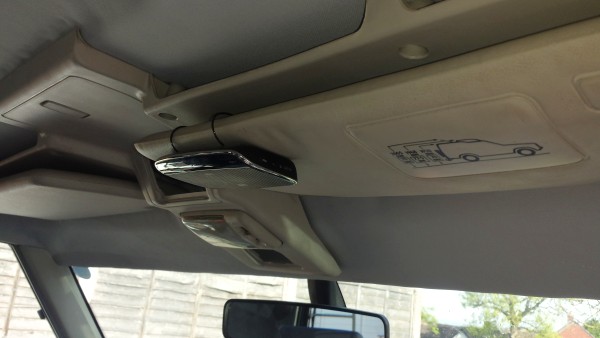 Job done.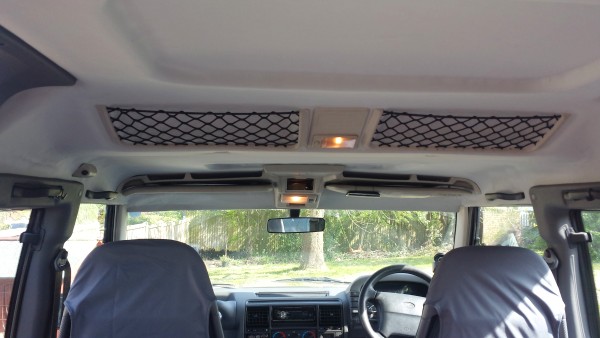 it makes for a much better driving experience and with some good weather is a job that can be done in a weekend, as long as you have the material some glue and a spoon!
Now all I have to do is fix the 'death wobble' see the next installment.